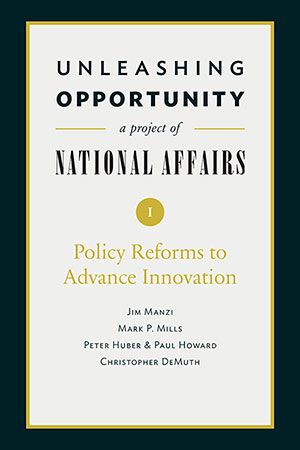 National Affairs is proud to present Unleashing Opportunity, a series of three brief policy books designed to help policymakers in Congress and the new administration take up the challenges surrounding innovation, higher education, and regulatory policy, in 2017 and beyond.
The first installment in the series, Policy Reforms to Advance Innovation, is available for download here, or get the Kindle version at Amazon.com.
Click here to download Policy Reforms to Advance Innovation.
If you'd like a hard copy, please contact Emily MacLean at [email protected] or (202) 289-4100.
TABLE OF CONTENTS
Executive Summary
Innovation Policy for American Leadership in the 21st Century
by Jim Manzi
Energy Policy for American Leadership in the 21st Century
by Mark P. Mills
Biopharmaceutical Policy for American Leadership in the 21st Century
by Peter Huber and Paul Howard
Wireless Telecommunications Policy for American Leadership in the 21st Century
by Christopher DeMuth